Binding:

Paperback


Brand:

Gallopade


EAN:

9780635023896


Edition:

2


Feature:

The Mystery in the Rocky Mountains 13 Real Kids Real Places


ISBN:

063502389X


Item Dimensions:

7505253340


Label:

Carole Marsh Mysteries


Languages:

EnglishPublishedEnglishOriginal LanguageEnglishUnknown


Manufacturer:

Carole Marsh Mysteries


Manufacturer Maximum Age:

168 months


Manufacturer Minimum Age:

84 months


MPN:

Illustrated


Number Of Items:

1


Number Of Pages:

160


Publication Date:

April 01, 2004


Publisher:

Carole Marsh Mysteries


Release Date:

April 01, 2004


Studio:

Carole Marsh Mysteries



Features:
The Mystery in the Rocky Mountains 13 Real Kids Real Places
---
Related Items:
Alternate Versions:
Click to Display
Browse for similar items by category:
Click to Display
---



Editorial Review:





Product Description:


When Christina, Grant and their two friends join their mystery-writing Mimi (and Papa!) on a trip to the "Mile-High City" of Denver, Colorado, they soon find themselves:

• Sleeping in a mysterious, haunted palace of a hotel!

• Deciphering mountains of clues to solve a mystery!

• Reading tattered old books to help solve the clues!

• Traveling through tricky tunnels to get to a scary ski slope!

• Meeting an amazing woman who once sailed on the Titanic!

But can the kids have fun, stay warm and solve a mystery all at the same time? Strap on your skis and come along and see!

LOOK what's in this mystery - people, places, history, and more!
Denver winter weather • Rocky Mountain history, facts, and folklore • Mining history and folklore • Old West Santa Fe style buildings and architecture • America the Beautiful song lyrics and author bio • Rocky Mountain Railroads and Old West transportation facts • Anasazi Indian history, lifestyle, and facts • Learning how to ski • Brown Palace Hotel • LoDo (Lower Downtown) • Garden of the Gods • Pikes Peak • Cliff Place at Mesa Verde National Park • Eisenhower Tunnel.

Like all of Carole Marsh Mysteries, this mystery incorporates history, geography, culture and cliffhanger chapters that will keep kids begging for more! This mystery includes SAT words, educational facts, fun and humor, built-in book club and activities.

Below is the Reading Levels Guide for this book:
Grade Levels: 3-6
Accelerated Reader Reading Level: 4.9
Accelerated Reader Points: 3
Accelerated Reader Quiz Number: 79513
Lexile Measure: 760
Fountas & Pinnell Guided Reading Level: Q
Developmental Assessment Level: 40

Get your FREE Resources!





1. Download the Carole Marsh Mysteries Real Kids! Real Places! Correlations to Common Core/State Standards HERE.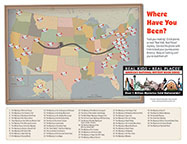 2. Download the Where Have You Been map HERE.









3. Utilize the Real Kids! Real Places! Common Core State Standards Teacher Resource for classroom discussion questions and activities for ELA grades 2-6. This can be used for all 50 mysteries HERE.







4. Download additional activities including Fact or Fiction, Fascinating Facts, Book Club Discussions and Book Club Activities HERE.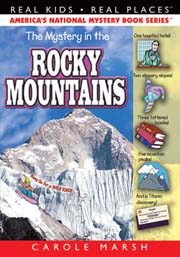 5. Want a sneak peak? Read the first three chapters HERE.





Average Rating: none




---